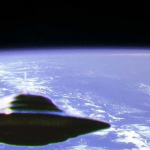 COBRA – Solar System / Planetary Situation Update
Sunday, December 13, 2015
Clearing of the Chimera group continues. The main problem remaining are implants of the Cabal members, connected with Tunnels of Set to Yaldabaoth plasma accretion vortex which extends throughout the Solar system, tied to plasma strangelet and toplet bombs. Implants of the Lightworkers and Lightwarriors are connected to the implants of the Cabal members with Tunnels of Set and this hinders their spiritual progress, but at the same time accelerates the clearing of the Cabal's implants and disintegration of the Yaldabaoth octopus plasma accretion vortex.
Many people are aware of the Chimera stations on moons and asteroids inside our Solar System. Here we need to understand that there are only a few hundred moons and a few million asteroids that are suitable to establish physical bases and only a fraction of those actually have Chimera bases present.
The Kuiper belt, on the other hand, is huge and has billions of potential bodies that are suitable to host a base and actually the vast majority of physical Chimera bases are positioned inside the Kuiper belt and form the so-called Kuiper Ring, the outer line of defense which protects the Chimera-controlled territories inside this Solar System against the liberation forces of the Galactic Confederation and the Ashtar Command.
The Kuiper belt is situated mainly in the ecliptic plane just outside Neptune's orbit. You can see a picture of officially discovered Kuiper belt objects, seen from above. The yellow dot represents the Sun, four red dots gaseous planets of our Solar System and the white and blue dots represent officially known Kuiper belt objects: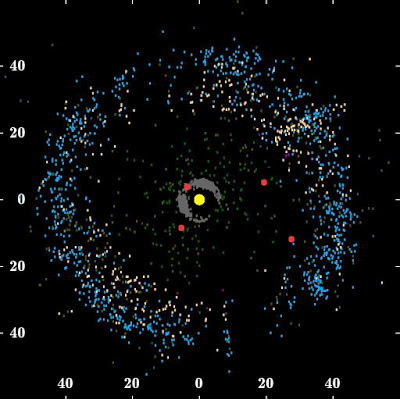 If we superimpose a map of the Chimera bases (the Kuiper Ring) on our picture of the Kuiper belt, we get this animation: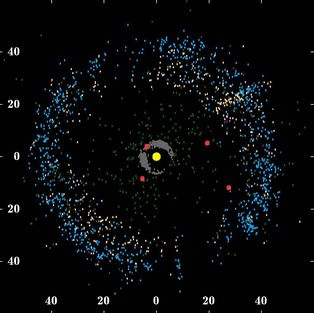 Operations to remove the Kuiper Ring of Chimera bases will start very soon. I will report about this as much as it will be strategically wise. Let not the number of those bases discourage you, the plan to remove them is very solid and the situation will be dealt with efficiently.
It is interesting to see that NASA has just recently released its first space probe image of a Kuiper belt object:
http://www.nasa.gov/feature/a-distant-close-up-new-horizons-camera-captures-a-wandering-kuiper-belt-object
Recently there have been many signs in the skies that herald the return of Light, from Andromedan ships in Texas as reported by American Kabuki: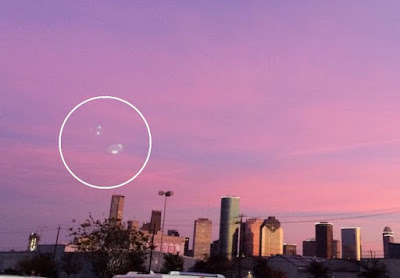 To beautiful solar arcs in Calgary:
http://spaceweathergallery.com/indiv_upload.php?upload_id=120725&PHPSESSID=2tp39nunatp784e8aipd4d8mu5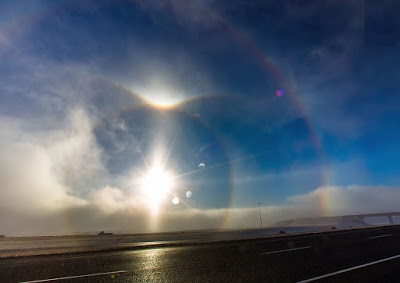 On the surface of the planet, the Eastern Alliance is one step closer towards the Reset as Chinese Yuan is to be included into SDR basket of currencies:
http://www.reuters.com/article/us-imf-china-idUSKBN0TJ24Q20151201#9dsSDDLokLrYsPua.97
Finland is the first country on the planet that is seriously considering to give its every citizen an unconditional basic income, no strings attached:
http://qz.com/566702/finland-plans-to-give-every-citizen-a-basic-income-of-800-euros-a-month/
Also, the Eastern Alliance will launch a joint Chinese-Russian news agency to counteract Khazarian control over the Western mass media:
https://jhaines6a.wordpress.com/2015/12/02/rt-china-russia-to-launch-joint-news-agency-to-boost-eurasian-integration/
Chinese sources report that although the Eastern Alliance is quite successful in progressing on a global scale and on federal level in China, there is still a massive amount of Jesuit / Rothschild infiltration and lots of greed and corruption on a local level.
Archon/Jesuit/Khazarian forces are putting all their efforts into maintaining their entropy machine by suppressing free energy to be able to keep their oil-based economy running, destroying countries (Syria), to be able to seize their oil, suppressing Goddess vortexes to prevent spiritual awakening (Syria again) and by preventing mass awakening by withholding Disclosure.
They fail to understand that their entropy machine obeys the laws of semi-iterative inequations and will be dissolved with mathematical certainty.
Our Event Meditation on November 21st was a huge success and more and more people are joining our Weekly Event Meditation each Sunday. Experience shows that meditation does change the world:
http://www.theguardian.com/teacher-network/2015/nov/24/san-franciscos-toughest-schools-transformed-meditation
Our Weekly Event Meditation now has its own website:
http://weeklyeventmeditation.com
Beautiful videos have been created for our meditation in many languages.
English:
https://www.youtube.com/watch?v=keckUjPRueU
https://www.youtube.com/watch?v=zksbyUofgK0
French:
https://www.youtube.com/watch?v=Sh3EGrjMXV0
https://www.youtube.com/watch?v=usLfCP2kpLA
German:
https://www.youtube.com/watch?v=1SST8bYCu_E
Greek:
https://www.youtube.com/watch?v=e3TIPM-z4Z0
Hungarian:
https://www.youtube.com/watch?v=EH6EuJPNJZk
Japanese:
https://www.youtube.com/watch?v=h9yTipEukGg
Translations into other languages are needed. Please send your translations to parlagisas777@gmail.com and they will be made into Youtube videos and posted here.
Victory of the Light!
Posted by Cobra
Source:
http://2012portal.blogspot.com/2015/12/solar-system-planetary-situation-update.html