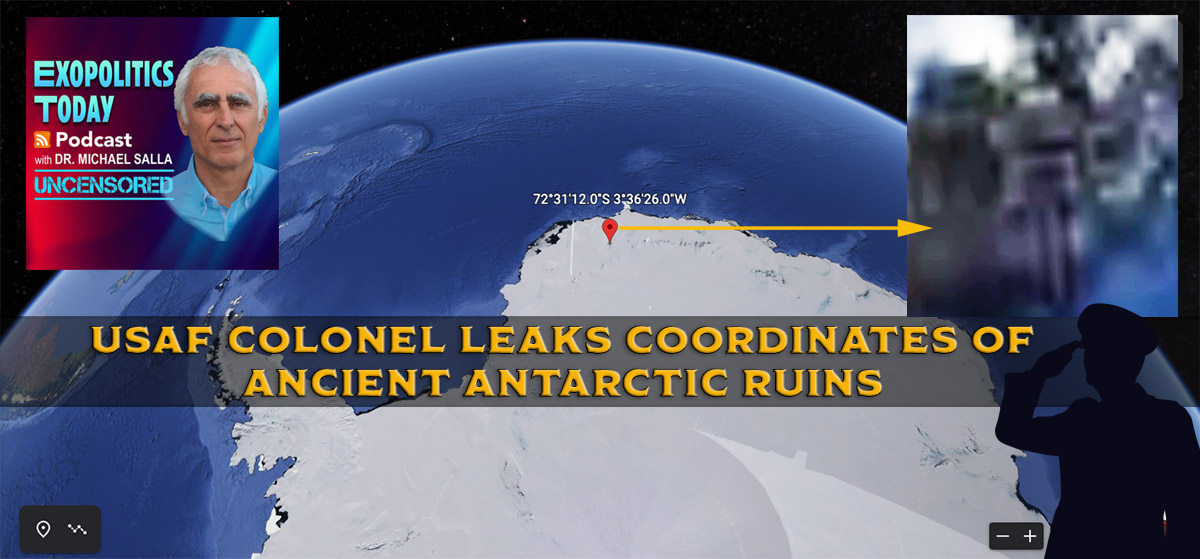 On December 26, 2021, my US Army source, JP, was given a set of geographical coordinates from an unnamed Lt Colonel (USAF) who simply told him to publicly release them. JP had seen the officer at a classified briefing he attended at a military base where he is currently stationed, where he was told about ancient ruins being found on Antarctica, the Moon, Mars, and elsewhere in our solar system.
These were being investigated in joint missions with various Earth nations, including China. JP participated in the Moon mission, which I covered in my previous interview with him, and in an earlier joint mission to Ganymede.
The coordinates given to JP (72°31'12″S 3°36'26″W) appear to show a large building complex located about 150 miles (240 km) from the Antarctic coastline in Queen Maud Land. This is an area that was claimed by Hitler's Third Reich and where an Antarctic Colony, Base 211, was secretly established during World War 2.
The ruins are in an elevated area that is ice-free and appears to have a runway or very long hangars from which aerospace vehicles can take off and land.
It's important to point out that the ruins are many miles away from the two nearby Norwegian bases Troll (72°00′42″S 2°32′06″E) and Tor (71°53′22″S 5°09′34″E). These are the two closest Antarctic research stations to the coordinates given to JP, which shows the structure nearly 8 degrees to the west of Troll, with similar latitude. I've marked the approximate location of the structure in relation to Antarctic Research Stations in the following graphic.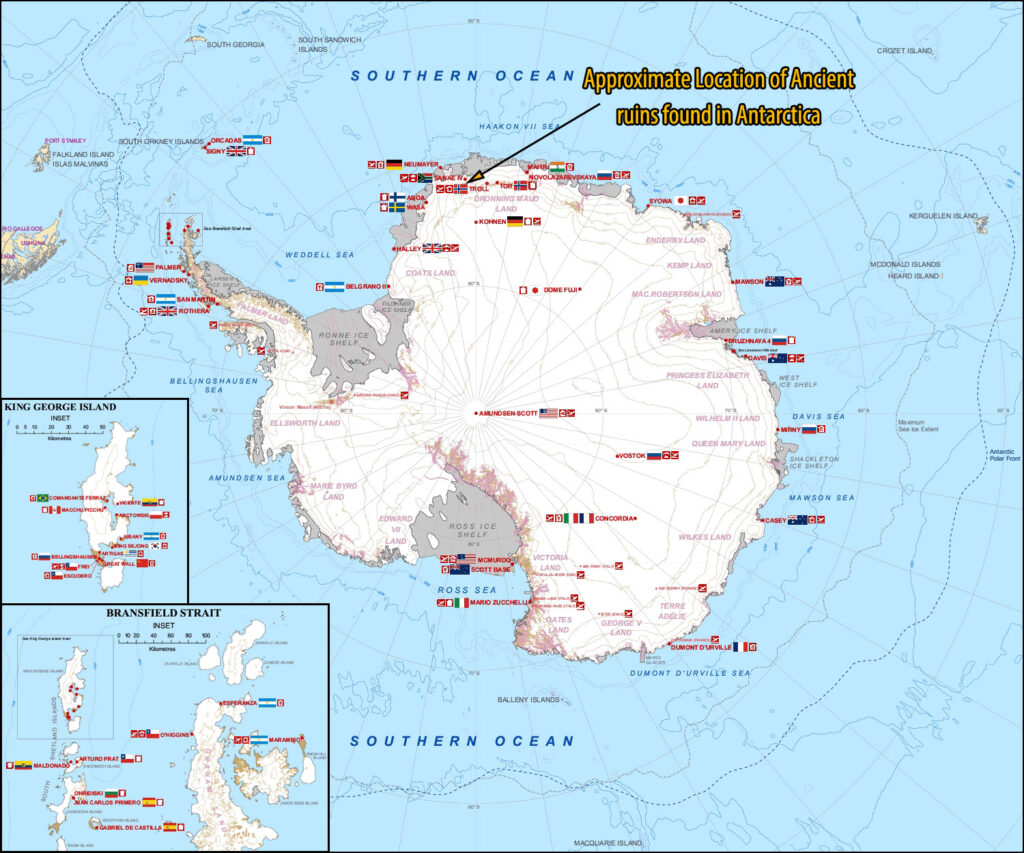 According to JP, the US military is working inside several buildings at the ruins, one of which contains a 'stargate' or a 'portal' that enables instantaneous travel in our solar system. This is JP's skype message to me about the ruins:
These are the ruins where everybody meets up. He is one of the officers.  I only saw him once in the rooms that we do the meetings. Came up to me and said to share the information.   He works in the building where the gates are that takes you to different places in our solar system. [12/26/2021].
Significantly, the USAF Lt Col is said to work in the building where the portal/gate is located. An estimate of the ruin's size, using Google Earth, is roughly 2500 feet (about 830 meters).
JP created a video that shows the structure on Google Earth for the coordinates he was given and compares its size to Machu Picchu (JP's video starts at 3:08 in the audio version of this article).
The location of the ruins suggests that it was found and previously used by the German SSP (Dark Fleet) and was off-limits to the US military. This would have been especially the case if it housed a portal enabling instantaneous travel in our solar system and beyond.
It is possible that the ruins were recently handed over to the US military by China. In previous articles I have examined claims that the German Dark Fleet recently had to evacuate Antarctica due to intervention by an Earth Alliance working with friendly extraterrestrial organizations: the Galactic Federation of Worlds. The Dark Fleet facilities were reportedly handed over to China, which quickly handed them over to US Space Command with the provision that joint scientific research would be conducted at these, as stipulated in agreements reached in July above Jupiter, which I discussed here.
Critics may point to the apparent ruins as merely pixelation due to the low resolution images from the US Geological Survey that Google Earth used for creating the aerial overview. A close examination of the image in comparison to other nearby areas suggests that the object is not due to image pixelation. On Google Earth Pro, a historical review of the coordinates sent by JP show that this is the first time the structure has shown up.
An official graphic from AntarcticGlaciers.org shows that the ice sheet is less than 500 meters thick in the region where the ruins are located. Its location at an elevated ice-free area makes it quite suitable as an airbase that was used by its former occupants—Germans, extraterrestrials, or an ancient civilization.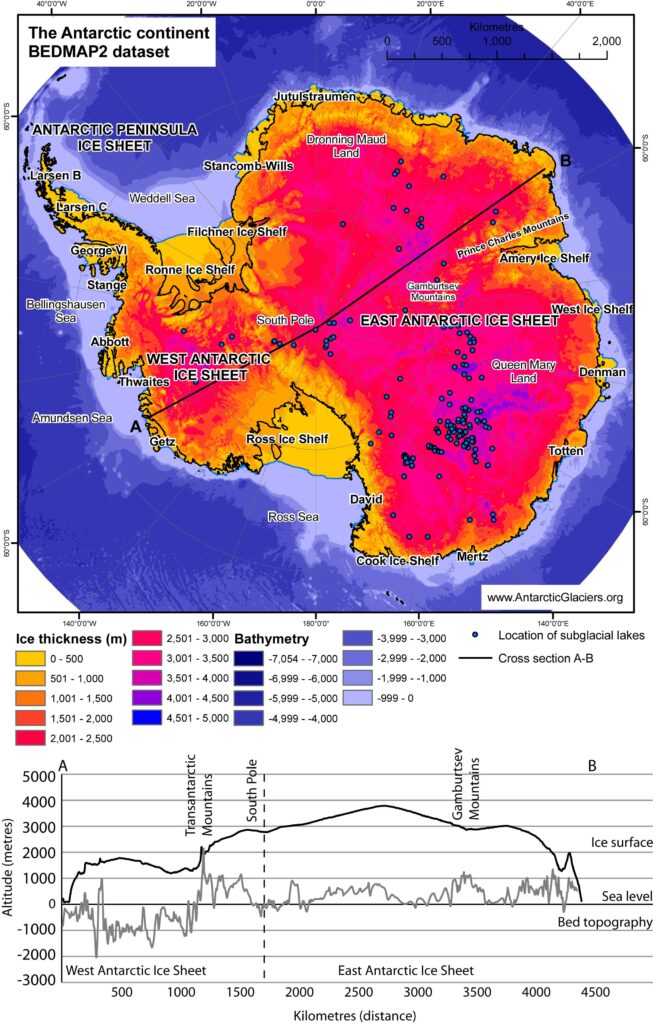 Some may wonder why JP was given the coordinates of these ancient ruins by the USAF officer and told to release it publicly. It is important to point out that in 2017, Air Force operatives, on several occasions, instructed JP on where to look up to the sky to take photographs of flying triangles and rectangles in the vicinity of MacDill Air Force Base. The photos and related articles are available here, here, and more here.
I have high confidence in JP's reliability as a witness and as a conduit of information releases tacitly approved by senior military officials. This leads me to conclude that the structure found in the Google Earth images may well be ancient Antarctic ruins, significantly larger than those found at Machu Pichu, which was previously used by the German Dark Fleet and is now under the control of an Earth Alliance led by US Space Command.
A video version of this article is available on YouTube & Rumble
© Michael E. Salla, Ph.D. Copyright Notice
Michael Salla, Ph.D.
[Note: on the evening of Dec 31, 2021, JP informed me that he is currently facing disciplinary measures for releasing information about the classified Moon mission into the public arena. There are those in his direct military chain of command that assert the information was not supposed to be publicly released and want to punish him. Despite JP getting into trouble for his releases, and having to do "unpleasant jobs" as punishment, he intends to continue to reveal information, but emphasizes the need for his continued anonymity. He says that he is being protected by a lot of "white hats" that want the information to come out. JP explained to his chain of command that the coordinates given to him about Antarctica are about to be released. He was told by white hats that it was OK to do so. Nevertheless, he will still face disciplinary action for continuing to release this information.]
https://exopolitics.org/usaf-colonel-leaks-coordinates-of-antarctic-ruins/